Minny Grown is proud to announce a pioneering collaboration with the University of Vermont as part of a groundbreaking sustainable farming initiative. This innovative project aims to address the increasingly problematic waste streams generated by the cannabis industry and provide small to medium-sized farms with sustainable options for waste management and multi crop production.
The two-year experiment will be led by Dr. Deborah Neher, a professor of plant and soil science at UVM and globally recognized expert in soil ecology, and PhD student Noah Olson, a Minnesota native researching sustainable cannabis production systems as part of his doctoral dissertation.
Dr. Neher has spent the last decade developing sustainable options for waste management on organic farms, often employing methods such as composting to transform agricultural wastes into a valuable resource for farmers. More recently, her attention has turned to the cannabis industry, attempting to address the fast-accumulating waste streams resulting from the manufacturing of cannabis products. One of the waste products of most concern is the leftover plant material (leaves and stalks) that results from the production of cannabis oil (hemp CBD oil, THC oil, etc.).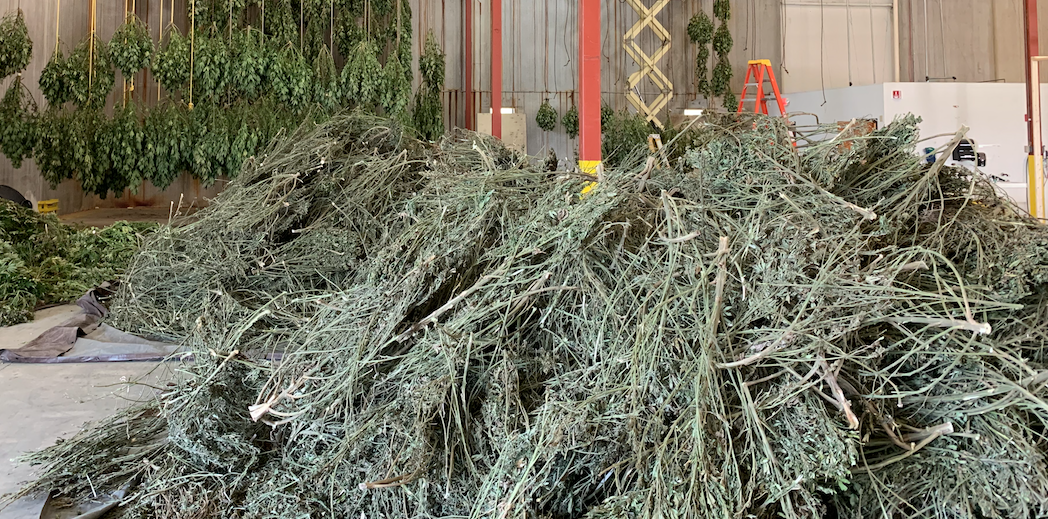 United States Federally Funded Project: Sustainability
Stalks and leaves are the most commonly wasted material in cannabis oil manufacturing and are often left to rot in piles or hauled to landfills post-processing. This practice is not sustainable and overlooks the potential of plant wastes to restore fertility and improve soil health. Holding little economic value, crop residues are generally considered waste biomass although they store a large portion of the primary nutrients the crop consumes. In fact, cannabis stalks and leaves can hold up to 80% of the nitrogen the plant takes up during its life cycle, so finding novel ways for farmers to recycle the nutrients locked up in residual biomass is a top priority and the primary focus of this project.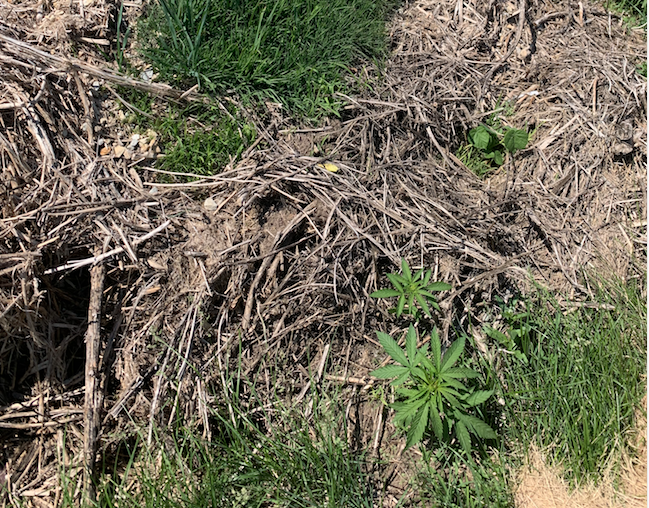 Through collaboration with the University of Vermont, Minny Grown, North Spore mushroom company (northspore.com), and IMIO Technologies (https://www.imio.co), this project aims to identify novel in-field composting techniques that replenish soil fertility and improve soil health. The project is a two year experiment that is taking place at Minny Grown's hemp farm in Cannon Falls, as well as two other locations in Vermont. Together as a group we are using leftover hemp biomass as mulch/ground-cover for hemp CBD plant production that can be turned into high quality CBD products. The hemp biomass/mulch is then treated with either IMIO's microbial inoculant "RE-GEN" or edible mushrooms provided by North Spore.
In both scenarios, the microbes/mushrooms have been chosen specifically for their ability to degrade cannabis waste. RE-GEN uses naturally occurring and non-harmful bacteria and fungi to facilitate the rapid breakdown of plant waste and release of nutrients into the soil. North Spore's wine cap mushrooms (Stropharia rugosoannulata) have evolved specialized enzymes that can digest hemp residues—unlocking nutrients and making them available to the growing of hemp CBD plants. Additionally, wine cap mushrooms are a highly sought-after edible species which could possibly serve as a secondary crop for farmers to take to market.
This project represents the first-of-its-kind to formulate farm-specific waste management plans using mushroom companions/microbial inoculants and offers an opportunity to bridge agricultural productivity with sustainable growing practices. With complementary byproducts and offsetting ecological roles, the plants, microbes, and mushrooms have evolved to quite literally feed each other. Providing an almost perfect model for sustainable systems to follow.
The proposed system of nutrient recovery is a novel approach that offers three key benefits for post-harvest handling of plant residues: 1) low cost of implementation because mushroom spawn/microbial inoculants are inexpensive, 2) ability for farmers to recycle their waste on-site and reduce external fertilizer inputs and 3) generate additional income through gourmet mushroom production.
By using recycled biomass as a fertility amendment and substrate for edible mushrooms, farmers can cultivate agroecosystems that efficiently cycle nutrients and generate more biomass per land area—increasing the productivity and sustainability of the farm without increasing land use. These benefits provide practical economic and environmental returns to stakeholders and help achieve a greater degree of agricultural efficiency—values that UVM, Minny Grown, and the other collaborators have long been committed to. This partnership reflects our organizations dedication to advancing the science and ethics of organic and sustainable cultivation in the fast-evolving cannabis industry.
Key Takeaways from Project with UVM
Key takeaways of the partnership:
Sustainable Agriculture Research: The Sustainable Research Farming Project will explore innovative and sustainable methods for the cultivation of cannabis and mushrooms on organic farms. This research will not only benefit the cannabis industry but also contribute to the broader field of sustainable agriculture.
Leadership by Dr. Deborah Neher and Noah Olson: Noah Olson, a Minnesota native, is set to lead this groundbreaking study as part of his Ph.D. research at the University of Vermont. His expertise and commitment to sustainable farming align perfectly with Minny Grown's mission and values. Dr. Neher's expertise in soil ecology and experimental design will guide all research efforts ensuring the project proceeds at the highest professional standard.
Federal Funding: The program has received significant funding from the United States Federal Government, underlining the significance and importance of sustainable agriculture and its potential impact on rural communities.
Innovative Research: This one-of-a-kind study will employ cutting-edge techniques and methodologies to explore the synergies between cannabis and gourmet mushroom cultivation, providing valuable insights into organic farming practices and ecosystem balance.
Community Engagement: Minny Grown and UVM are committed to engaging with local communities to share knowledge and promote sustainable farming practices. We believe that this collaboration will have a positive impact on both the academic and local farming communities.
Minny Grown and the University of Vermont are excited to embark on this journey towards a more sustainable and environmentally responsible future for agriculture. We look forward to sharing our research findings and contributing to the broader conversation on sustainable farming practices.
About Minny Grown: Minny Grown Cannabis Company is a leading provider of premium cannabis products, known for its commitment to sustainable and organic cultivation practices. Located in Cannon Falls, MN, Minny Grown is dedicated to setting the highest standards for environmental responsibility and quality in the cannabis industry.
About the University of Vermont: The University of Vermont, founded in 1791, is a renowned public research university located in Burlington, Vermont. UVM is committed to academic excellence and fostering a diverse and inclusive community while addressing complex societal challenges through innovative research and education.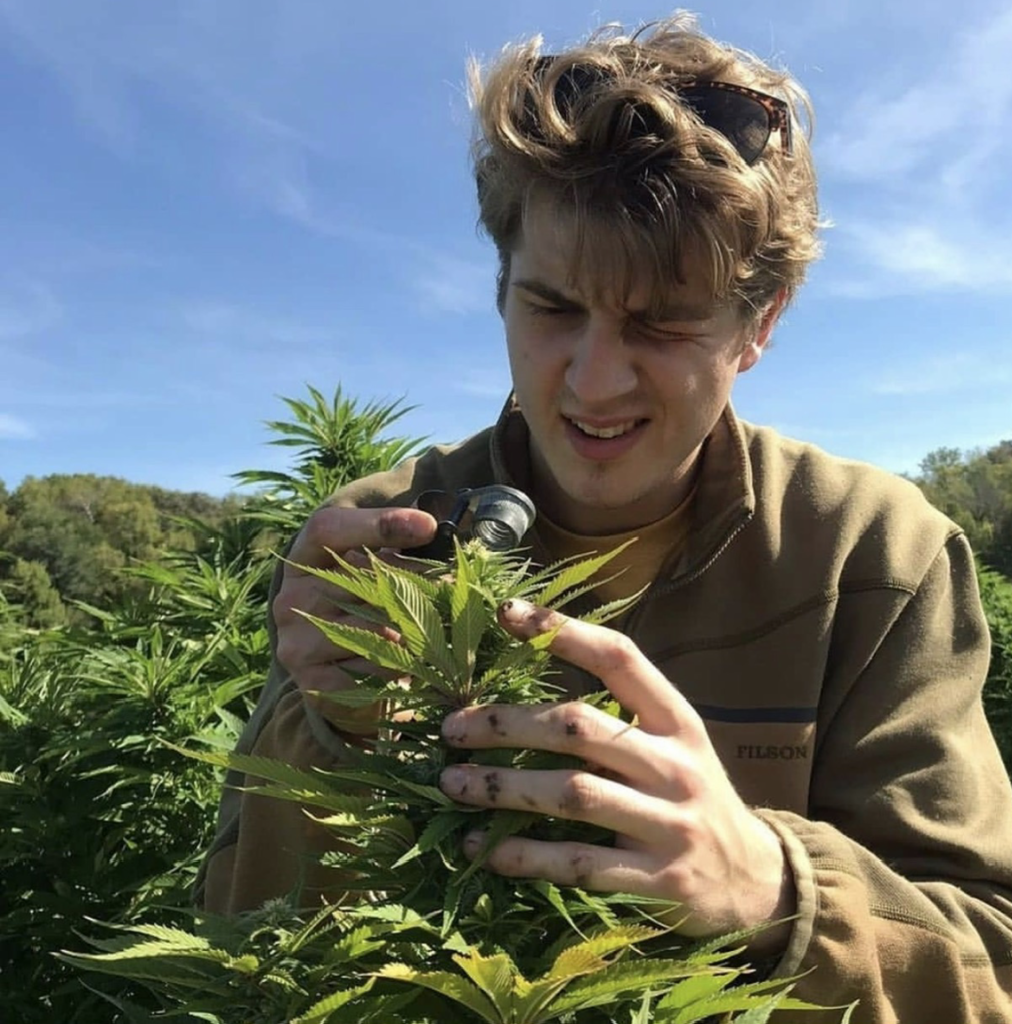 *Minnesota native and researcher Noah Olson pictured above studying Minny Grown's hemp field.