The endocannabinoid system (ECS) is a complicated and unique cell-signaling system that plays a crucial role in the ways our brains and bodies regulate certain functions and processes.
This system was only recently discovered in the 1990s by scientists studying the effects of cannabis. Since its discovery, the endocannabinoid system has been heavily researched for its effect on bodily homeostasis. What's bodily homeostasis? Well, think of it as your body's ability to respond to various changes in your environment — and as research and studies continued to develop — more and more information about this vast cell-signal network has emerged.
The initial scientific inquiry identified that the endocannabinoid system was only present in the brain and nerves. However, over time researchers have discovered that the endocannabinoid system may be one of the most prevalent and widespread signaling molecules known to humankind.
So, what do these signaling molecules do? Well, here are just a few of the key functions the ECS affects.
Mood
Appetite
Sleep
Memory
Fertility
Just by looking at these five functions, it doesn't take a rocket scientist to see how important the endocannabinoid system is to your health and wellness.
Now, you may be thinking:
"Oh no! I don't use cannabis, does that mean that I have an unhealthy endocannabinoid system?"
Absolutely not! The endocannabinoid system is active and regulating regardless of your use of cannabis products such as THC or CBD. So, how does it work?
How Does the Endocannabinoid System Work?
This complex cell-signaling network works utilizing three ingredients.
Endocannabinoids
Receptors
Enzymes
Endocannabinoids are molecules that your body naturally creates, and while they're similar to cannabinoids, there are some notable differences. Research has identified two endocannabinoids so far — anandamide and 2-arachidonoylglyerol.
These play an important role in how internal functions run, and the body naturally produces both of these as needed to help keep these internal functions running smoothly.
The ECS receptors are vital, as endocannabinoids bind to them so that the endocannabinoid system can jump into action. There are two primary receptors that are worth noting.
CB1 receptors are found throughout the central nervous system
CB2 receptors are found throughout the peripheral nervous system and immune cells
Now, there is a lot of ongoing research as to how these receptors can be utilized in order to achieve a certain result — but so far, it's known that endocannabinoids can bind to either one. How the body reacts depends on both which receptor receives the action and where it is located throughout the body.
Enzymes can be found throughout the body, but play a significant function in how the endocannabinoid works. Enzymes will break down endocannabinoids after they've fulfilled their role. It seems like we're following the rule of two here — but again, there are two primary enzymes that fulfill their duty when it comes to the ECS.
Fatty acid amide hydrolase breaks down anandamide
Monoacylglycerol acid lipase breaks down 2-arachidonoylglyerol
Now, all of these factors work in concert with one another to assist with a wide range of bodily functions. Research is still ongoing, and there is much we still do not know — but studies have illustrated that the endocannabinoid system can affect:
Metabolism
Appetite
Digestion
Chronic pain
Sleep
Memory
Mood
Inflammation
Muscle formation
Cardiovascular function
Liver function
Bone growth
Skin function
Nerve function
Reproductive functions
Stress
And more
Do you remember that bodily homeostasis we mentioned earlier? As you can see, the ECS works throughout the body's vital organs and functions, stabilizing certain cell-sending networks.
How Does Cannabis Affect the Endocannabinoid System?
Both THC and CBD affect the endocannabinoid system in a unique way, which may play an important role in the health and wellness aspect of the cannabis plant.
THC (tetrahydrocannabinol) is a primary cannabinoid found in cannabis — and is most known as the compound that gets a user "high." THC actually binds to ECS receptors and can offer a wide range of effects. There is a difference between THC and CBD, which we've outlined in "What is Hemp and How is it Different Than Marijuana." Now, depending on which receptors it binds to and where — the effects may vary. It can give the user "the munchies" due to its effect on appetite and even reduce pain. However, it may also cause some to experience an uptick in anxiety and paranoia.
CBD (cannabidiol), on the other hand, does not give off the "high" or euphoria that THC does — and does not usually have any negative side effects. There is still a ton of research yet to be done on CBD and how it interacts with the endocannabinoid system because, unlike THC, it doesn't bind with receptors. While the jury is still out on its exact functionality, many believe that CBD prevents the breakdown of endocannabinoids, allowing it to affect and serve the body more effectively.
What this leads to is improvements in how the bodily functions we mentioned operate.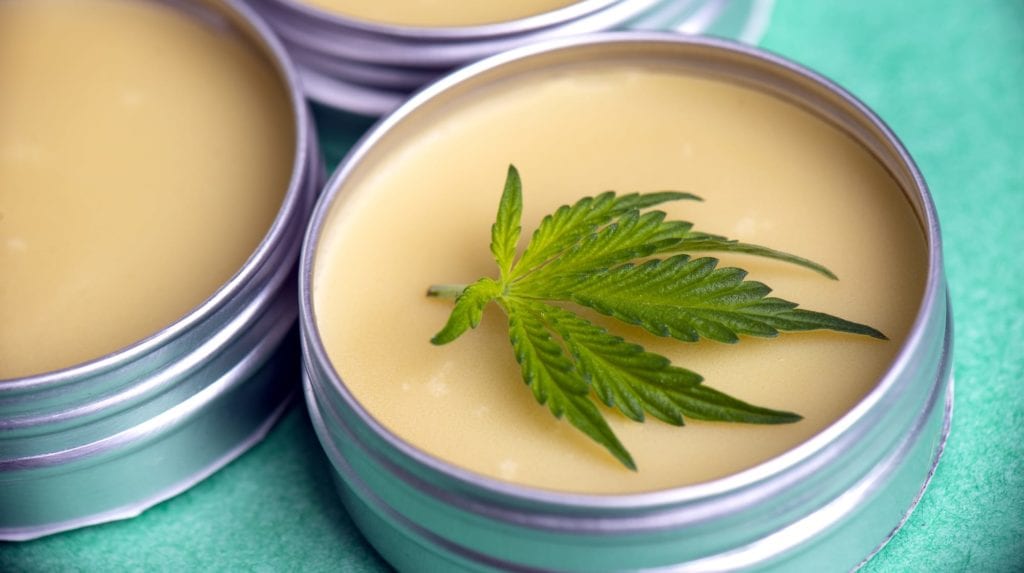 CBD Products You Can Try
As mentioned, the research has been extremely promising regarding CBD's effect on the ECS. So, why not give some CBD products a try. Because CBD has very little psychoactive THC properties, it's safe to try and add to your health and wellness routine without the worry of potentially negative side effects. If you're curious about learning more about CBD, check out: "What is CBD and Why Does It Work?"
For now, let's take a look at some CBD products you can try for yourself.
CBD tinctures come in a variety of flavors and are super-easy to use. It comes in a simple eye-dropper style bottle and can be easily dosed to fit your exact needs. Full-spectrum CBD tinctures combine all of the incredible natural effects that hemp plants have to offer for a great addition to your wellness regimen.
CBD topicals can consist of lotions or creams that may help reduce inflammation and help moisturize your skin. These CBD topical solutions are full of organic oils and cannabinoids for your skincare routine.
CBD capsules are just like a daily vitamin, except they're packed full of incredible cannabinoids to help regulate the body's primary functions. CBD capsules are a great addition to your multivitamin routine and give you all of the incredible benefits of cannabidiol in a bottle.
The Research Continues
The endocannabinoid system is a complex and diverse cell-signaling network with secrets we're still yet to unlock. It's an exciting time in the cannabis ecosystem, and the endocannabinoid system plays a major role in how we understand hemp and CBD's effect on the body.